Westminster Bridge - London
USL Ekspan provided both the bridge expansion joint system and associated contracting expertise for the refurbishment of London's Westminster Bridge, working with main contractor Ringway Jacobs on behalf of client Transport for London.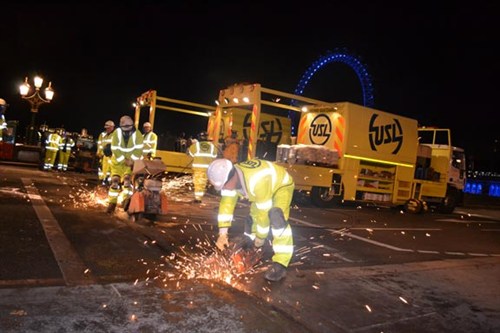 The existing bridge expansion joints had come to the end of their life span and were to be replaced with a Modular expansion joint. USL Ekspan's Britflex BEJ expansion joint was the client's preferred choice and was specified by Jacobs as the ideal replacement joint. There were eight joints to be replaced in total, seven of which utilised Britflex BEJ 5 (50mm movement) expansion joints measuring 26.60 metres and one using Britflex BEJ 10 (100mm movement) expansion joint, also 26.60 metres in length.
The works were to be undertaken at night from 21:30 to 05:30 under lane closures, using four joint installation crews over a period of eight nights. The completed works had to be cured in time to accept traffic the following morning.
One expansion joint to the North Abutment (nearest Big Ben) had to be completed under a full road closure on a single Sunday night utilising three joint installation crews due to the complexity of the road layout at that end of the structure.
Pedestrians had to be given access to cross over the structure 24 hours a day, so safeguarding the public from USL Ekspan's works was of major importance.
The Britflex BEJ expansion joint was chosen because of the quick installation of this cost-effective system. It allowed minimal disruption to the public, and the works could be completed in phases allowing public access to the bridge at all times.
By undertaking the works in phases, traffic still had access to use the structure to cross the River Thames, excepting just one night when a full road closure was in place.
USL Ekspan's Britflex BEJ expansion joint system has been extensively used by Transport for London for in excess of 25 years. It has been installed on some of the UK's most prestigious structures, including Tower Bridge, London Bridge and Waterloo Bridge, to name a few, and is seen by the client as the ideal solution when Type 6 expansion joints need replacing on its structures.
For more information please contact  +44 (0) 113 8418861 or email info@uslekspan.com